August 9, 2014
Lazy Days!
I'm so caught between these gloriously beautiful days which call for being outside and relaxing, that I am feeling very guilty for all the household chores that are not getting done. This weighs on me, so on Thursday I simply took off for Seattle and wandered around University Village and did some therapeutic shopping.
I've been on the lookout for the perfect pepper grinder for several years. After hearing a Cook's Magazine podcast, I decided to go to Crate and Barrel to purchase the one that came out on top in their product testing. Unfortunately, C&B were out of the product, but I still bought it and they will send it to me free of charge. Then, I wandered the Apple Store and Anthropology and Williams Sonoma before crossing over to see what stores are in the new huge parking structure. After a few hours of meandering through stores, enjoying a frozen yogurt and then, later, an ice tea (it was a hot day), I finally headed up to Martin and Christine's friend's restaurant, Pair, where I met them and we all enjoyed a simply wonderful small plates dinner. Driving home, I reflected how getting away just one afternoon was so very enjoyable and refreshing. It is what I miss mostly about Don being gone -- I'm not as apt to take these little diversions on my own.
I've been diligent in walking down at Boulevard Park while listening to Podcast. James, who is going away to college very soon, has been in and out of my house with the occasional all nighter since it is easier access to his girlfriend who lives in town rather than in the county like he does. It's great to see him run in and out with "Hi grandma." Yesterday, I even got his girlfriend, Sierra, to join with me in talking him into mowing my lawn. Yay for women power!
Last night I saw the new Helen Mirren movie which was delightful. I am definitely into culinary pursuits lately -- in podcasts, in movies (I also saw Chef), in cooking (my latest some apricot jam), in buying a new Ottolenghi cookbook, and meeting my birthday group at Ciao Thyme for lunch. All this while trying to be true to Weight Watchers. Oh my! Some of my habits do not particularly go together.
So, this is a blog about almost nothing. I do have to get to so many of my unfinished projects, but this is what incessant sun in Washington does do the soul. It has been glorious walking over the water each day with the warmth surrounding you. All of Bellingham is outside these days.
Now I am off to meet Charles at the Pickford -- we're going to see an old Charlie Chaplin movie. I do love summertime!
Posted by Marilyn at 10:15 AM | Comments (0)
July 22, 2014
Jet Lag
Jet lag is very strange. When I went to Hong Kong, and lately England, I was a bit weary in the first few days -- but I adjusted very well. I was able to go about daily business with some energy and enthusiasm -- perhaps it was because I was in a foreign country and excited to be there.
However, both coming home from Hong Kong, and now England, I have had a much more difficult time. I slept the first night because I had been up about 20 hours with only a very short nap before going back to bed. I even made it to my book group Saturday night after that nice sleep. But that ended that.
The next few nights I woke up every hour or so, and I was super groggy and felt totally off during the day. I accomplished very little except for emptying my suitcases, going to the market for some food after eating three meals of peanut butter and toast, and watering the garden. I did run over to church Monday morning to help Barb Storms count the offering. Thankfully, it was very small, or I would probably have made multiple mistakes. We took care of it in a short while, and I was back home to brood on my lack of any physical strength.
It didn't help that after being very healthy and energetic in England, they had a heat wave and I acquired a terrible rash on my lower legs while going through museums and enjoying our last day in London. It didn't itch and it didn't hurt, but it looked gross. It has taken several days to fade away but it, also, took its toll.
Good news at last -- Last night I went to bed at 8:00 after falling asleep catching up on programs like Endeavor (I'll have to rewatch it), and I slept completely through to 3:30 a.m. and then from about 4:15 to 8:00 a.m.. Welcome back to the land of the living!
I know this is a small price to pay for a lovely vacation in a faraway land. But, I am such an impatient person that I want to right the ship immediately. It takes a great deal of talking to myself to promise just to relax and let the process develop. I want to pick up the projects that I left when I traveled, clean the house, get into my ignored garden, finish painting the dining room, and feel like I have accomplished something.
I have made a new rule. I cannot worry about anything until I am home for one week. I guess I'll have time to catch up on my saved television programs and finish reading a novel. I'll have to pretend that I'm still on vacation. I often wonder when I had time to work.
At least I'm not going to get a heat rash in Bellingham these days -- and I won't have to water my garden for a few days. I can be grateful for small favors.
Posted by Marilyn at 4:53 PM | Comments (0)
July 20, 2014
Visiting England
Here are some final musings about visiting England:
I have always wanted to go to England, but found my travels to be directed elsewhere. And, as wonderful as those have been, my dream has always been to find a little cottage somewhere in England, stay for at least a month, and roam at will. I wanted to get acquainted with the country of my mother's birth and to discover my grandparents home, and reacquaint myself with my mother's British cousins who now live in Wales. Somehow this has never come to be -- but when Don's niece Connie wrote on Facebook that she would be spending her leave from the Peace Corp in London and invited anyone to join her, I simply responded, "Yes." Several things led to this decision -- I was tired of trying to fashion the perfect England visit in my head, and I had lots of air miles on my Chase card that allowed me to buy a very inexpensive ticket. My thought was, "Why not go and get acquainted with the place?" And, that was my goal.
Goal accomplished! The chance to be in London for four days, travel to another very colorful city of Bath, and to visit with a good friend in West Sussex and see a real castle in a charming, boutique town was the dessert after a lovely meal. This was a whirlwind trip -- if not the travel of my dreams. When I was in Singapore and Hong Kong with Dani and Charles, I lived in their residence and went sightseeing at leisure. In a small way, compared to my kids, I was able to soak up the culture while living in a foreign neighborhood and having a feel for how people lived. Both those countries were unique and memorable -- and I would go back to either in a heartbeat although Singapore was definitely my favorite.
I would still like to go back to England for an extended stay and have the leisure to relax more and to see so many other places and sights. However, I am thrilled to get a taste of the country after so many years of dreaming about it. I loved London -- and Dani was right when she said that staying in Bloomsbury near Russell Square was a great central location. My bucket list was mostly filled -- from seeing Westminster Abbey, several museums, some gardens, eating at famous places, learning the fantastic tube and train system, seeing such famous places as Trafalgar Square and Piccadilly Circus, Notting Hill, Charing Cross Road, going to Harrods, going to real British pubs, traveling through Victoria and Paddington Stations -- I got acquainted with so many of the things that I've read about, thought about, dreamed about. Then, going to Bath and Arundel -- both quaint in their own ways -- seeing Roman ruins and a real castle was icing on the cake.
There are certainly many things I did not see or do. But, that was ok. I was pleased with the places we stayed. All of them were fairly modest, but friendly and certainly adequate for all our needs. Our place in Bath was the nicest and the Shakespeare in London for our final day was the least comfortable -- but all served full breakfasts and all were friendly and very helpful to tourists. We also met several interesting people while dining -- especially the woman from USC who was now an art dealer in London and talked art with us after our visit to the Courtauld Gallery. Her husband was Swiss and a financier. Then there was the hostess of a restaurant who was from South Africa and had returned the night before from a safari. Those kinds of experiences enhance a trip because they are unforgettable.
So, in retrospect, I am very glad I finally dipped my toe into the Thames (so to speak). It just whetted my appetite for more. I have some relatives to discover. I chose tea with Cindy and her girls and visiting Hope over traveling to Wales to find cousins -- and that is fine. I enjoyed having my niece assist my travels since she has been all over the world. She probably made some different choices with a more elderly companion, and I thank her for that. I enjoyed hearing all about her adventure in Moldova. She will be there one more year.
All in all -- it was a winning experience. I am grateful beyond words.
Posted by Marilyn at 10:38 AM | Comments (0)
And, For Martin
This is for Martin who highly suggested that I take the boat ride on the Thames that travels between the two Tate Galleries. Thank you, Martin, for the lovely experience!
The starting place -- Tate Britain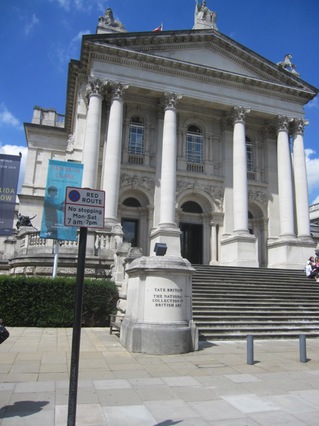 Views from the boat
The View From Tate Modern -- We Walked Across That Bridge, Martin!
Living Proof! It was An Amazingly Gorgeous Day! A London Heat Wave.
Posted by Marilyn at 10:21 AM | Comments (0)
Britain Between Arundel and London
This is for my sister who, like me, has her roots in England but has never visited. These are glimpses of England from the window of the train traveling between Arundel and London -- just for fun!
Posted by Marilyn at 9:56 AM | Comments (0)
July 17, 2014
Goodbye London!
(I wrote this on my last night in London, but it kept having trouble when I tried to load the pictures. I'm sending it today and following it up with one more post):
I will keep this short because I just got back to my room by Paddington Station in a little, rather basic, hotel called the Shakespeare. We traveled from Arundel by train to Victoria Station and took a taxi to this hotel because it is near Paddington where I will catch the Express tomorrow morning around 6:30. The hotel will do in a pinch. It has a shower which is most important because it is HOT in London. In fact, it was so hot that I found my legs were covered in heat rash when I undressed for bed. They didn't itch, so I was completely unaware.
This has been such a whirlwind trip -- not at all the way I prefer to travel. But, we have seen so much, and I do feel that I know England a little bit which was my intention when I decided to join Connie on her vacation from the Peace Corp. The places we have stayed have been charming, if not opulent, and the people who run them are really helpful. The breakfasts are ample, but really too much. I can only hope that walking from 5-7 miles per day will offset the diet (or lack of one).
Today after arriving back in London and dropping our bags, we visited both Tate Museums and took the water taxi between which gave us great views of London. We ate lunch at the Tate Britain and dinner in a restaurant on the Thames across from the Tate Modern. I'm now ready for bed if I can sleep in this heat. Also, I had to pay 2 pounds for wi fi for one hour, so I can't do this very long.
I'll post some more shots when I am home -- if I can stay awake. Here is leaving Arundel, arriving in London and two shots in London.
Leaving Arundel -- I LOVE the train system in England!

\
Arriving in London

Traveling on the Thames between Tate Museums

A Lovely View of St. Paul's

Posted by Marilyn at 1:38 PM | Comments (0)
July 16, 2014
Arundel and the Castle
According to Hope, West Sussex is having a heatwave. It is definitely warm, but still breezy and a wonderful temperature for wandering around. And, that is just what we did today. After breakfast, Connie and I were on our computers and just lounging until we were to meet Hope and Grace at 11:00 in front of the Arundel Castle. What a treat. I haven't been in many castles during my lifetime. This is really the storybook castle that belongs to the Duke of Norfolk who still lives here (some of the time since he has another castle in Yorkshire).
The walking tour (with trams for long distance if needed) takes you through the grounds to the gardens (flower and kitchen), up to the Anglican chapel (there's also one in the main castle), through the ancient ruins of the large and very high keep (or stronghold) of the original castle built in the 11th century, then through the actual rooms of the castle, itself, still in use by the family and guests. For these reasons, often the rooms are closed to visitors. Today they were open. And, pictures were acceptable every place except in the living areas. The place is opulent -- filled with portraits of the family and royalty, lavishly decorated and draped in heavy fabric. The library is impressive with books lining two story walls, comfortable overstuffed furniture and window seats, with elaborate decorations, volumes on display, and paintings on the walls. I wanted to curl up and read with a cup of tea.
The four of us went for lunch in the cafeteria between seeing the gardens and grounds and touring the house. Then, after we finished the tour, we walked into Arundel for a cream tea and scones. It was wonderful touring with Hope who was so knowledgeable about the castle and the family who occupy it at this time. This particular duke is not as involved with the city as the previous duke was when Hope's family moved to West Sussex. Grace indicated that studying castles is part of the curriculum of the schools and that she had toured Arundel when in the early grades.
All in all, it was a very enjoyable day which ticked off two more items on my list -- a castle and a garden. How exciting is that?
Here is a picture of our little bed and breakfast:
The Castle:
The gardens were quite beautiful -- Italian gardens, a kitchen garden filled with herbs, vegetable gardens, hanging cucumbers in the greenhouse, espaliered apples, and many other lovely garden patches. There was an arbor for sweet peas which, of course, was heavenly scented as you walked through the pathway.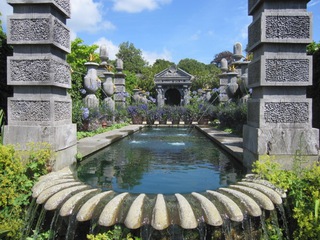 The chapel is next to the gardens. It is one of two. The other is the family chapel in the castle (no pictures allowed). Next to the chapel is a crown held up by a stream of water -- called "the floating crown" and given to the Duke by royalty.
Here is the Keep which was also the original castle (and Yes, I climbed all the way up!) The views from the keep are quite impressive -- of course they allowed the residents to spy on the enemy who might be trying to invade the castle.
Here is a picture of the "dry moat" that didn't help much in the 1600's when it was besieged twice:
Posted by Marilyn at 9:35 AM | Comments (0)
From Bath to Arundel (West Sussex)
Our last morning in Bath was enjoyable. We wandered over the Avon on a bridge that is lined with quaint old shops. While Connie went looking for a Vat form to get back her rebate, I wandered around Bath town and went to Sally Lunn teahouse (supposedly the oldest in the city) to try her famous buns - think half of a very large hamburger bun with lemon curd. I satisfied my curiosity in just a few bites After picking up our bags at the inn, we headed for the train station. The ride to the little town of Barnham took a few hours after which we jumped on the train to London and rode just two stops to Arundel, a lovely, artsy town with a huge castle on the River Arun.
We wandered the town a bit until Hope Newcomer picked us up and toured us around West Sussex before taking us to her charming house. Her husband, Andrew, and two of her daughters, Ellie and Grace, were there also. Andrea is in the states for the summer. The Newcomer-Jones took us to a great little restaurant on the Arun River and close to the English Channel -- a few blocks from their home. Tomorrow we are going to go to the castle.
Bath From the Bridge

The River Bridge

The Avon

Arriving in Arundel

The Town With the Castle

The Arum River

Posted by Marilyn at 2:16 AM | Comments (0)
July 14, 2014
Bath - Day Two
This was a lovely day. This is a lovely place! And, I'm writing this from my room in the hotel. It is late afternoon, and I decided to take a break from all the touring and visiting and busyness to simply sit, write, and relax. This is the very first time I have done this other than the end of each day when we say goodnight and go to our rooms. It was time that I took some space for myself. This has been a really nice trip and a nice visit. But, I'm ready to relax a bit while Connie is out there still roaming. We will meet for dinner.
We began today with the second of the bus tours in town -- the one that stays in town and gives an over view of all the various sites to visit. This time the tour was excellent because I had my own ear plugs and our guide was great. After we toured for several miles, we jumped off at the stop that was by the Fashion Museum and the Assembly Rooms. The Assembly Rooms were used in the 18th century for parties, card games, teas, and dances by high society. These rooms are actually mentioned in a couple of Jane Austen novels since she lived here for a few difficult years when her father was ill and died. But, she also wrote two of her novels in Bath. We didn't tour her home since it is not actually where she lived. But, the halls are beautiful, although one was closed for a private party. They have been restored after being bombed in the war.
The Fashion Museum is a fascinating exhibit of four centuries of fashion. It also has a presentation of the "Dress of the Year" which I had never heard about. Evidently one designer dress is chosen each year to represent the best of design. This museum has a display of those that have been chosen over the years. We also walked over to the circular Neo Classic buildings called the Circus. There's one on each side of a square which, all together, resemble a coliseum. All the fronts are similar, but the backs are not -- and some have "hanging loos" which were added years later since none of the apartments had them when built.
We began walking down Milsom Place, a good shopping venue, and Connie found a new blouse. I was delighted because I found Jamie Oliver's Italian restaurant. Jamie is one of the chefs responsible for changing the reputation for Britain's cuisine. According to one of his workers, this is the first deli and restaurant that he has built in England. We had to go in and have lunch -- which, by the way, was delicious! I think Connie was pleased! After eating, we caught the rest of the bus tour which took us back to the city center. We followed the tour with a walk through the Bath Abbey where King Edgar I was crowned in 973. Today's abbey is the last great medieval church in England. It has so much stained glass that it is nicknamed "The Lantern of the West." A trip through a few stores brings us up to this afternoon when I am writing this post. I'm lying on my lovely white comforter with the fan going in my room. It isn't hot, but it is pleasant with the moving air. Tomorrow we have train tickets to West Sussex and a town called Arundel.
Bath from the Bus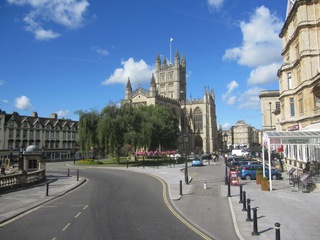 One quarter of The Circus

One of the Assembly Rooms Mentioned in Jane Austen's "Persuasion."

Guess What I Found Walking Down Milsom Place?

The View From the Restaurant

The Restaurant

The Italian Deli

Inside the Bath Abbey

Posted by Marilyn at 8:52 AM | Comments (0)
Bath - Third Try
I have written and lost this little post about Bath three times. I'm going to try to save every other sentence!
We arrived in Bath on Sunday morning, just before noon, after a 1 1/2 hour lovely countryside train ride from London. We saw lots of wheat fields and animals grazing as well as a nuclear plant. Somehow it didn't quite fit. Unfortunately, we had a bit of a mixup with our hotel hosts who didn't expect us until 2:00. So, Connie and I dragged our suitcases even a bit further to a pub where we had a passable lunch. My hamburger was fine, I was just tired and needing to get settled, and completely in the dark as to when the hotel owners would be located. They do not reside in the building and have other businesses. I left messages by phone but hadn't heard back. After lunch, Connie went back by the house and found some people leaving who let her in. She called me and I followed -- and we finally connected with the owners.
After getting settled in our lovely rooms (no complaints there), we set out for a bus tour of the outskirts of town. My earphones didn't work well, so I just had to pretend to know what I was seeing. However, the top of the bus was quite balmy and the trip lovely through the hills around Bath. I resolved to take my iPhone plugs the next time. After the tour, we headed for the Roman baths and a wonderful, and quite comprehensive, tour. The baths are many centuries old, but the self guided tour takes us through the Roman city of Aquae Sulis which contained many pools bubbling up from the deep with supposedly healing warm waters. How the Romans ended up in Britain in the 1st century is a mystery to me, but they obviously were there for the baths. A great deal is known about their culture and habits, and the tour takes you through items found from their times - the Roman ruins being at least 18 feet below the more contemporary dirt floors.
The baths have waxed and waned in popularity. In 1687, the supposedly infertile Queen Mary bathed here and gave birth to a son 10 months later which revitalized the area. Today the town is filled with ancient buildings made of the creamy limestone called "Bath stone." It has more government protected buildings per capita than any other town in England. It is a pleasure to walk through the cobbled streets and peer up at the multiple chimney pots right out of Mary Poppins!
After the tour, we found a restaurant and had dinner. I might say that it wasn't our best culinary day. I also have to say that not all Brits make a great roast beef and Yorkshire pudding! Our accommodations are lovely -- nice linen, a fantastic shower, and I even have a queen size bed since I ordered an en suite room. There are only about six rooms in this building which is narrow and tall. Connie is on the upper-most floor with a tiny room. We have no complaints. The breakfast was good -- better than the Celtic. They surely feed you well in Britain.
Here are some pictures from the Baths: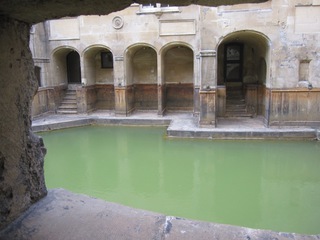 Posted by Marilyn at 8:04 AM | Comments (0)