April 25, 2015
A Potpourri of Experiences
My writing can't keep up with the trip. We are busy day and night. Had a fascinating trip to see some family landmarks with my cousins during our time in Stratford on Avon. The most interesting part of the day was a trip to a pen museum. More on that later since it was pretty fascinating. Then, after dinner we had to pack to take the bus and train to Bath. That evening we went to dinner and took a bus ride around the city so Barb could get oriented. On Friday, we went to the Roman baths in the morning and my friend, Hope, came in the afternoon. We went to the newly refurbished Holburne Art Museum and then over to The Royal Crescent, 18th century circular apartments, to tour a restored unit -- these were the places wealthy people kept for their stays in Bath during the season. Following that we had dinner at the Jamie Oliver Italian Restaurant and walked back to our place to say goodbye to Hope. Today, we boarded the Mad Max tours and headed to Stonehenge, Avenbury (more stones), and the through a few quaint Costwald towns to meander. This evening we are once again getting ready to embark upon our next experience -- leaving tomorrow morning really early for Paris.
I have found the trip just a taste of the places we have stayed. It seems like we just get somewhere and it is time to leave. It is difficult to pick and choose what you wish to see when you know there is so much more. At least we'll have a full week in Paris, and I think that will be great.
I wanted to get caught up with the blog, but I'll have to augment these experiences when I have time -- especially the day with my cousins. Tomorrow i'll be traveling the entire day.
Barbara and I Made Pen nibs at the Pen Museum

Barb and Hope Outside the Holburne Art Museum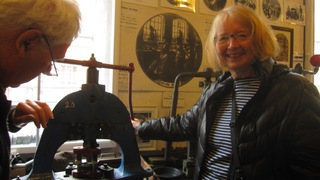 Posted by Marilyn at 1:25 PM | Comments (0)
April 21, 2015
No Time to Write
Such a busy trip -- there's no time to write. Yesterday, we arrived at our charming inn in Stratford-Upon-Avon after a very, very long day. We were greeted by the lovely proprietors who welcomed us and our guests, my second cousins with whom we spent the day. They then served all of us tea and cakes and gave us a rundown of the inn including a huge, old fashioned key which we can use on our room. This place has every single bell and whistle that anyone could ever want including hot water bottles, lots of books in the room, tea service, towel warmers, etc. etc. etc. There motto is to treat every person as if she/he were a private guest. And, you can choose breakfast from a huge list that includes just about everything you can think of like eggs of any kind, waffles, pancakes, salmon, etc. etc. You have to order it the night before and tell them about when you will be down to eat it. A small price to pay.
We arrived here about 10:00 in the morning after catching the fast train to Coventry from Euston Station. My cousins, Pat and husband Peter, picked us up and we headed straight for Wales. We didn't go too far into Wales, just to a village near Llangollen, where Pat's brother, Roy, met us. We lunched together and changed family tales before walking the towpath along the canal and over the viaduct chatting away, watching the boaters on the canal, and getting acquainted with each other and the beautiful valley stretching out in every direction. It just whet our appetite for Wales. We said goodbye to Roy who went to his home up north while Pat and Pete delivered us to our inn as mentioned above. Before they left, we went out to a delicious British dinner where Barbara had a meat pie and I had a wonderful, succulent duck.
Today, we have been sightseeing in Stratford where it is all about Shakespeare. We took the touring bus to Anne Hathaway's home and Mary Arden's farm. Then came back into town and had lunch at the Swan pub across from the theater, bought tickets for a play tonight, meandered through the Holy Trinity Church to Shakespeare's grave, and then to his daughter, Susanna Hall's home in town, and shared a cup of tea and coffee in the gardens. Now I'm sitting on my comfortable bed writing this -- although we will be leaving soon for the theater.
It is absolutely gorgeous here. We rode the double decker touring bus in the sunshine and had to take off our jackets. The daffodils and tulips are out and we couldn't ask for a better environment. Tomorrow we'll go to a few museums and Pat and Pete are going to take us to a few places where our family originated. Life is good.
The Canal and Pleasure Boats

My Cousins - Peter, me, Pat and her brother, Roy

Our Breakfast Room

Barbara in Front of Our Inn

Posted by Marilyn at 9:36 AM | Comments (0)
April 19, 2015
Three Days is Not Enough
This is our final day in London, and there is so much we didn't do or see. I guess that is always the way it is. We spent the whole morning going to a friend's church. Ana and Tod Gobbledale were two of Don's favorite people. Ana's parents belonged to our congregation after her father retired from the ministry. Ana and Tod were in Africa with their two children and would often visit our church when in the states. They have been pastors in London for five years at St. Andrews United Reform Church in Brockley. It took over a half hour by taxi and took us into some areas we would never usually visit which was fun. After the service we caught the bus back into the city and back to St. Paul's church.
Barb and I took Connie to the restaurant we visited on Saturday, and we had another delicious lunch after which we wandered over to the Globe Theater that was besieged by hundreds of Londoners who were able to get into the theater free because they were celebrating Shakespeare's birthday. Instead of standing in line for a couple of hours, we chose to walk over to the Museum of London which was a few blocks away. It was a small, charming natural history museum that pictured London over the years, the early natives, the conquerors, the growth of the city and the way the city developed.
We took the tube back to our hotel, got onto their computer to make reservations for tomorrow morning when we take the train from Euston Station to Coventry to meet my cousins. We were happy to have dinner in the hotel since we were tired from a long day. Now we're ready for bed.
Onward to the next adventure!
The Gobledale's Church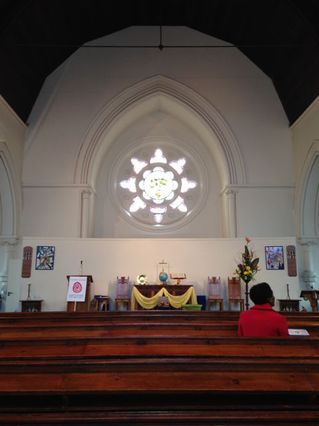 A Wonderful Rocket Salad on A Spanish Cheese

Barbara Wishes Shakespeare a Happy Birthday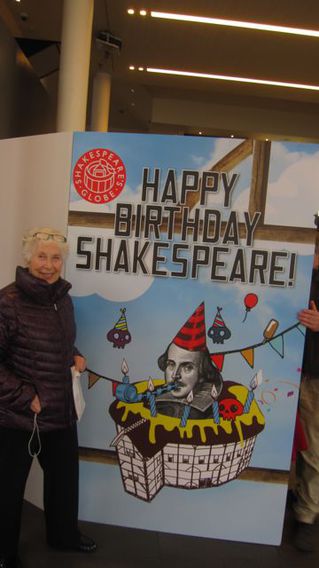 Posted by Marilyn at 1:58 PM | Comments (0)
April 18, 2015
Back to England
How lovely to find myself back in my mother's birth place. It took me years and years to get here and now you can't keep me away. My friend Barb and I flew into London yesterday on British Air out of Canada. The Heathrow Express got us to Paddington Station and a taxi to our Bloomsbury Hotel. We are staying at the Grange White Hall just around the corner from the British Museum. We spent a few, sleepy, moments at the museum since we didn't want to go to bed early. After running into my niece, Connie, who's on vacation from the Peace Corp. We all came back to the hotel for dinner.
Today, we set out on a trek to buy Barbara a new suitcase since her's was damaged on the flight. Then we took the tube to St. Peter's to wander the grounds. We found an absolutely wonderful little tapas bar on the Thames for lunch and followed it by walking across the Millennium Bridge to the Tate Modern. At 4:30 we walked back across the bridge and went to a beautiful Evensong at the cathedral. Now we are back at the hotel after a pasta dinner at local Italian restaurant. Tomorrow we are going to St. Andrew's United Reformed Church in Brockley where the Gobledales are pastors. Ana and Tod have long ties with our Bellingham congregation since they were missionaries in Africa when their children were young.
One more day in London before we head for Stratford-Upon-Avon. Onward and upward!
It Was Windy on the Bridge

A Fantasic Restaurant

The Beautiful St Paul's Cathedral

Inside During Evensong
Posted by Marilyn at 3:32 PM | Comments (0)
April 11, 2015
Faith Journey - Music Is My Life
Music has given me some of the most inspirational moments of my life. It has always been a part of who I am. Through singing sacred literature, I have taken some of the greatest passages of the Bible into my soul. I'm sure I learned more texts from singing motets and requiems than I ever did in Sunday School.

I began playing the piano as a child. It was my idea, and no one ever had to ask me to practice. I continued until I was about 19 when I got more interested in choral music. I was blessed to study with two of the most talented choral conductors at the college level.
I loved choir in junior high but quit in high school because I couldn't abide the obnoxious music teacher. Instead I played the piano for a group called the "High five." When I got to Pasadena Junior College, Bob Peters, one of the group members who was on campus, came and found me. He literally dragged me into choir and wouldn't take no for an answer. It was the best thing that could have happened to me. The conductor, Dave Thorsen, was amazing. I changed my major to music.
I began singing in Dave's church choir on Sundays and got to know his wife, Katy. They took me along with them to San Diego in June. Dave was hired to do the finances for the summer program for music teachers. The lead faculty was an internationally famous choral conductor, Robert Shaw, and his entourage from New York. That was a lifetime experience. We sang several major works that summer with two choirs - a group of teachers during the day and a community choir that joined the teachers at night.
While in San Diego, I heard a boy ask Robert Shaw what college offered a good choral program. Shaw told him, "Definitely, Occidental College. Howard Swan is the best!" That was a no brainer for me. Oxy was about 5 miles from my home. Many of us went from singing with Dave straight to singing for Dr. Swan. And the next two years were magical as I honed my conducting skills and we continued to sing music that fed our spirits.
One exceptional concert stands out. We sang a two-choir Bach work for the national music teachers' organization. After our first two bars, the music just soared through the meeting hall turning it into a cathedral. People were mesmerized. It was an experience that stopped time. When the final chords began to subside, we all felt that we had experienced something mystical. The people in the audience sat stunned and in complete silent. For years after that experience, I would meet someone who was there. They still talked about that amazing time they were touched by God.

And, perhaps they were.

Posted by Marilyn at 10:01 AM | Comments (0)
March 24, 2015
Faith Journey - My Mother In Law
My parents weren't particularly religious. As I have already mentioned, they sent my sister and me to Sunday school when I was about 4 or 5. But they didn't go themselves. My father once claimed to be a lapsed Methodist, but I think he never forgave his parents for insisting that he move from Iowa to California after high school to help support the family when he just wanted to go to college. I don't know whether or not that muddied the religious waters for him. My mother considered herself to be a faithful Anglican. She was baptized, confirmed, married, and buried in the Episcopal Church. She didn't consider herself lapsed just because she didn't attend weekly services.
All of us cousins were christened in afternoon ceremonies with only a priest and extended family present. These baptisms never occurred during a church service with a congregation in attendance. Both my parents attended Don's ordination. My father said later that my mom complained about the passing of the offering plate until he reminded her that the funds might help to put food on her daughter's table. My mother and father seemed to think that the church was an institution that wished to rule your life and take your money. My father actually was a very generous man. He had a good job as a sales manager for a company that sold glass bottles and donated to several causes over the years. His social realm was his work and colleagues. My mother's was her extended family and a few neighbors.
Don's parents had many friends and acquaintances in Carlsbad including their church community. Don's father's business was land development and insurance. The town was small and the inhabitants were often his clients - as well as his constituents after he became the first mayor of the newly incorporated city. I would estimate that both sets of parents were equal in financial resources. But, Don's family spent money in different ways than my family. When Don's father retired, he commented to his wife that he didn't know why they still had to tithe on their retirement since the church already had the first ten percent of whatever he had made over the years.
My family went out to dinner in fine restaurants and took month-long vacations during the summer to beach resorts. My father and one brother were the only two of seven siblings that completely supported their parents. We lived in a very tiny mortgage-free house inherited from my grandmother. Don's parents lived in larger and newer homes, were fairly frugal, saved up several years for a long trips, and gave generously to their church - a fact that has lead to this entry. It was my mother-in-law who taught me about the concept of stewardship.
My lessons began the first time I was invited to Carlsbad for Thanksgiving with Don's family. As a guest, I visited with the nieces and nephews while enjoying the wonderful aromas of a meal being prepared. When the dinner was finally ready, Don's mom called her sons into the kitchen and gave them plates of hot food to take to all the "aunties" in town. I was flabbergasted. The much-anticipated meal seemed to be headed straight out the front door. However, in fifteen minutes or so, the guys were back, and we lined up and amply filled our plates with a delicious feast. There was plenty for everyone. The point was, Don's mom didn't send the "leftovers" to the people she fed. Instead, they got the first servings off the top before her family was invited to eat.
Once we were married, Don's mom told us that if we took the first ten percent off of our income and gave it to the church (or a charity), we would never ever miss it. I thought that was a crazy idea on our meager budget. We decided to try it out. The thing that blew me away was that she was right. We didn't have a lot of money, but we began giving away the first ten percent. I can shockingly say that we never missed it. We often had unmet needs, but uncannily something or someone would come along and provide for us. If we were short of funds, we'd get an unexpected birthday check or gift or be invited someplace for dinner. When our rugs were beginning to shred, Don's aunt gifted us with money for a new carpet. This happened over and over again. Pretty soon you begin to wonder about those recurring coincidences.
The cultural image of God as some vague presence out in the universe that I (sort of) believed existed was now called into question. Don's mom insisted that all we had came from God's Grace, and we had an obligation to return a portion to further God's work. Was there something in the universe that gave back to those who gave unselfishly to others? Were these gifts we received coming from God?
I rejected the notion of a God doling out gifts only to those who have given generously to others. I didn't think it worked if you gave just so you could receive. What about the stories of Jesus feeding the poor and caring for the disenfranchised? But, I still had to work out how I would define God. Any God I believed in would have to be benevolent to all and not to a select few.
I decided that giving to others was a path you can choose to follow and incorporate into your lifestyle. It's like you put something into existence that reverberates like sound waves and creates harmony. As Don's mom believed, it's sort of like partnering with God and being on God's team.
I will end this entry with another Dee McClellan story. When we were moving to Woodland Hills from Santa Barbara, we looked at dozens of homes and were getting discouraged. We visited Carlsbad and reported our lack of success to his mother. She never wavered. "You haven't found it yet. But, you will because it is waiting for you." Before we drove home, we called our realtor. "A house has just gone on the market." We told him that we were going through Woodland Hills in about two hours and could stop. We stopped. We saw the home. We loved it, but it was more than we could afford. We made an offer and went to a restaurant to await an answer. Our realtor called and said, "They accepted your offer." Since we expected them to counter, we asked what happened. "I told them that a pastor and his wife were interested in their home. They asked 'which church?' and I told them Woodland Hills Community Church. They said, 'that is our church and our new pastor. We will absolutely accept their offer.' We had our house. And Bob and Sara LeBien, the previous owners, became good friends as well as parishioners. I said to Don, "How does your mother do this?"

Posted by Marilyn at 6:37 PM | Comments (0)
March 10, 2015
Faith Journey - Seminary Years

My agnostic husband chose to go to Pacific School of Religion in Berkeley instead of the Unitarian seminary, Starr King, because he believed that he would have more interesting dialogues in a school where students represented a wide diversity of denominations and beliefs. His fellow students ranged from Episcopalians to Methodists, Congregationalists to Presbyterians, with a few others thrown in for good measure. Three different experiences had a huge impact on us as a couple during seminary.
The first arose out of our living situation - a triplex at 1717 Arch Street. Bob and Carol Olmstead came from the East Coast and moved across the hall from us in the other first floor studio apartment. Upstairs, Doug and Pat White, and their two preschool children, were in the two-bedroom flat. We quickly became very close friends. During the day, while the guys were in classes, Carol and I worked, and Pat was busy being a mom.
I didn't have to go to seminary for a taste of the theological education that came from the hours we three couples spent either sharing meals or hanging out on the stairwell between our apartments. All of us joined freely in the discussion of ideas that our husbands brought back from their classes. After that first precious year together, the guys were hired at local churches and we moved into different living situations. We continued to see each other socially, and we dined together every Sunday afternoon for the next three years. The first year of seminary, there were eight McWhitesteads, a name we coined from McClellan, White, and Olmstead. By graduation, we were twelve since Carol and I had each given birth to two daughters. The friendship and support from these two families greatly enhanced our seminary years giving us an instant forum for ideas ranging from theology to childbirth.
For us, the most significant events during those seminary years were the births of Danielle Christine and Jennifer Anne at Herrick Hospital in Oakland. Birth was a common occurrence during those Berkeley years since most couples were in the early years of marriage. My labor with Dani was very long, causing several friends to call the hospital to check on my progress. My doctors kept coming in to laughingly say, "Another one of your pastors has called." Don was allowed in the delivery room. I'm sure that we would both say that all three of our children's births were a marvelous experience for us. Giving birth was truly a miracle that was deeply spiritual.
The third important occurrence was especially life changing for Don. As an agnostic, his intention was to become a minister to higher education and work in college ministry after graduation. That was before he became the Minister to Youth at Plymouth Church in Oakland where I conducted a children's choir, and we both began a young couples' group. Don's job was to work with Walter Mueller, the pastor, and preach from time to time. We became a solid part of the church community, and it was that community that changed his life's direction.

You might say that it was the act of putting old wine into new wineskins. Suddenly the kinds of Christian activities that he had rejected from his conservative childhood (words such as evangelism, discipleship, and mission) took on a new and fresh meaning in this more liberal congregation. Don saw how these things were truly lived out in a loving church community whose mission was not to look inward with an exclusive faith, but to build a community that would reach beyond the church walls to serve the world. My previously agnostic husband began to put together a new belief system based upon God's Word becoming embodied in a company of believers. From that time on, he wanted to serve a congregation because that is where he saw that Word acted out in the world.
Theologicallyl, in those days it always seemed that I just toddled along after him, enjoying the ride and taking it all in. I had not been brought up in a congregation that thought their ideas were sacrosanct and that you were either out or in depending upon what you believed. That was one of my beefs with the Mormon Church. And, I truly believed that education, as opposed to indoctrination, would enhance my belief system and help me grow. But, most important during this time, I could agree with Don that it was amazing to be a part of a loving congregation who accepted all people who wished to journey together and who lived their beliefs to the best of their ability. That community had a huge impact on both our lives.

Posted by Marilyn at 1:57 PM | Comments (0)
January 2, 2015
On Hold! Or, New Year's Resolutions...
It seems as though much of my life is spent waiting. I was pondering this situation as I was cleaning house after Christmas. There are several things in my living room that are "on hold!" They are mostly things that I need to replace or fix or want to buy -- but it is not yet time. One big item is my braided rug under my dining table. There are several prominent previously mended holes beginning to widen. But, I've been in the middle of painting my dining room for a few months (I'm a slow painter), and I don't want to buy a new rug until I'm sure how it is going to look.
Sometimes I wonder if people gaze around my house and immediately spot all the obvious problems -- the old dog scrapes on the front door, the holes in the rug, the dirty windows, the rips in the rocking chair seats. Surely they notice the half painted room. These are things that I've taught myself to ignore until i can get them fixed. Sometimes it's a financial thing, but other times it is just a priority problem.The situation is made more problematic due to my own nature. When I walk through someone's home, I don't see things that need to be done. I simply get a feeling from the books on the table, or the kind of light in the kitchen, the vividness or quietness of the colors. The ambience gives me a sense of who lives there. I immediately know if they really love music or if they love reading or enjoy collecting things. I have said many, many times that I want people to walk into my house and want to curl up somewhere with their feet on the coffee table, a cup of tea, and a book to read or someone to talk to.
I have a list as long as life of the things I want or even need to do in my house. It will never be perfect just as my previous homes were not perfect. Perhaps we have always bought a bit above our means. But, every time we bought a house, we looked and looked, and finally walked into one and said, "this is it." We just knew that we would be happy within its walls. Both Don and I always agreed. Perhaps that is why I'm reluctant to give up this amazing space, amazing view, and unfortunately amazing size, to move into something more manageable in many ways.
So, once again I begin a new year with lots of lists -- painting lists, chore lists, organizational lists, purchasing lists, cleaning lists, and even some personal improvement lists. They are half made. But, at the moment, my beautiful grandson is home for only one more day and he is playing my piano. The fireplace is going, the tea water hot, and a good book is waiting to be read. Can anybody improve on that?
Posted by Marilyn at 10:17 AM | Comments (0)
December 30, 2014
Pets!
I have been neglectful of my blog. I have been neglectful of writing. I have been other directed. It seems as though life just takes me where it will -- I follow the tides as they ebb and flow. They certainly have not been flowing towards creativity! Nonetheless, I thought about the blog today for two reasons. The first is that my writing group and I check in with each other on Tuesdays, and it is a Tuesday! We haven't been exactly good about this lately, but I still remember each Tuesday morning that I'm supposed to check in. Secondly, I am taking care of my neighbor's dog, and that in itself deserves some writing. So, as I was walking down Forest Street in freezing weather, having forgotten that my hair is not as thick as it once was and I needed a hat, praying that Charlie would poop so I could turn around and go back to my warm house, I thought about my blog. Perhaps writing on the blog is my therapy in times of need!
Charlie is a long haired, medium sized, sweet little dog adopted by my neighbor Shannon a few years ago when the employees at the Woods Coffee Shop down at Boulevard Park found him wandering around for a couple of days. Shannon tried hard to find his owners and to also find a new home, and finally decided to keep him. He is mellow, well behaved, and a real sweet pet, Shannon is single and travels often. Dani and Charles take on Charlie when she is gone -- he just joins the family's other two dogs with ease. However, they decided not to take him to Leavenworth after Christmas because taking three dogs to visit Charles's parents was a bit much. So, Shannon asked if I would take him for a few days after they left. Since I was going to be home putting stuff back to normal after a busy Christmas, and since Shannon does many little nice things for me like sometimes mowing my lawn while she mows hers and having her tree man cut off a few branches of my tree without letting me pay, I really wanted to give her something back with more than a few cookies.
I don't have a dog. I don't want a dog or any pets. I like my life. I love animals, but I like my life better. Charlie is a perfect pet. He is easy to take care of. He will walk by my side off leash. He comes when I call him. He never strays. He doesn't run into the street. He is extremely loyal and well trained. But those good qualities also have a back side. He will not leave my side. He won't go outside without me. I can't just open the door and tell him to go pee. He just looks at me dolefully and refuses to go. He must have a huge bladder. Every morning he waits patiently for me to take him for his walk so he can take care of the rest of his needs. It's been below freezing these past few days with high wind chill. I don't want to get up let alone walk in this weather. However, when you have a sweet thing looking at you with yearning eyes, you begin to feel guilty about what you want and feeling like you need to think about what he wants. Or needs! So, I dress as warmly as I can, grab the leash in case we run into other pets, and off we go for however many blocks it takes to move his insides to working order. Once done, I turn around and call him to reverse our steps towards home. He comes obediently wondering why we are stopping this great adventure he is having.
The problem with all of this is it reminds me of my terrible selfishness. I never wanted my parents to follow me around. I never wanted a husband that hovered. I never wanted to be a perfect mother. Even as a child, I needed space in my life. I needed time to muse, to think, to relax, to create. I was extremely fortunate to have a husband who worked a lot and left me on my own. When the children were babies, he would send me out to shop or to play from time to time when he saw I was getting wound up with too much chaos. We were a great team. And, since my children are grown and great parents, I probably didn't destroy them with my independence. For all my concerns, I was a fairly traditional mother. I'm sure they learned when to avoid me when I was overwhelmed. Nevertheless, I hate to be reminded of my selfish nature. I would rather think of myself as completely giving! But, alas, I'm surely not that way.
Shannon will be home tomorrow evening. Dani and Charles get home today. If I'm lucky, they'll take Charlie tonight so I can sleep in tomorrow. They have a fenced in yard so they don't have to take their dogs walking for their morning obligations. However, they do run their dogs daily. Of course, they are much younger than I am! When Shannon gets back, we'll go back to Charlie wandering over to my house from time to time. He will even sit in my chair with me while I read. But, just like grandchildren, I can give him back before I need to do anything but coo and pet.
No poop or pee
or responsi-bility!
Posted by Marilyn at 10:47 AM | Comments (0)
November 8, 2014
Faith Journey -- Sister Mary Corita
My husband was a poet who loved words as well as visual images. I attribute his lifelong interest to the wonderful liberal arts education at Occidental College including the various criticism classes he took in art, drama, and literature. On weekends, we went on interesting dates - often to Hollywood to curious bookshops or coffee houses to hear beat poets. One Saturday, we visited Immaculate Heart College in Los Angeles for a sale of lithographs by the students of art professor, Sister Mary Corita. The sale included some of the teacher's pieces.
Corita Kent was a pop artist who saw the sacred in everyday words and images. She produced large, colorful graphics filled with words and phrases about her faith. A large portrait of Wonder Bread, for instance, would convey a sense of wonder about God. Her art portrayed the messages of love and peace during the 60s and 70s -- a time of social upheaval. Sister Corita designed the 1985 Love stamp for the US Postal Service. She sold well, and fortunately, the art that Corita was discarding the day we visited the sale was affordable.
I fell in love with her creations during that visit to the college and still have about fifteen lithographs that we collected over the years. I recently donated a few back to the Corita Art Center as they keep a collection of her works, and they were missing some of those early pieces that she had discarded.
Corita taught me to look at the universe in new ways. She saw the sacred everywhere she looked. She saw it in nature, in products in the marketplace and in everyday objects at home. We bought a large lithograph of the Los Angeles Times that screamed out the gospel in the daily news. She taught me to see God in everything that touched me, everything around me, everything within me. She taught me to look for the sacred in others. It fit for me - all God created is good - and it is we humans that often mess it up out of ignorance or self interest.
Posted by Marilyn at 10:09 AM | Comments (0)