November 18, 2013
The Best of Education
When Dani & Charles made the decision to send James to the Waldorf School, I thought they were a bit crazy. I am a proponent of public schools, and I thought he could get what he needed there -- especially in Bellingham where the schools are quite good. Dani politely listened to my concerns and indicated that they were items that they, themselves, had debated. But, still, they sacrificed a lot to send him to Waldorf.
They made the best decision. I watched James thrive in a small environment that not only made learning an adventure, but gave him all the tools he needed to enter Bellingham High School and succeed academically. What Waldorf also gave James was the kind of experiences that we used to give our students in public education with the emphasis upon child development, providing enrichment activities and meaningful electives, instead of gathering statistics on teachers and standardized testing. What Waldord instilled was the love of learning.
I saw that again this past week as I watched Nico's first grade class at Waldorf where they begin teaching Spanish. Nico indicated that his Spanish teacher only speaks to the first graders in Spanish. He hated this at first, but actually now understands most of what she is saying to him. His class sang about 6-8 songs with some other hand or body movements to emphasize their words. They also counted in Spanish up to 20. They were on stage about 15 minutes performing in Spanish. Then, it was the 2nd grade's turn. They're counting included all the numbers above 20 and several more complicated songs and gestures. They began to sing a song where they removed a word each time -- the teacher would say "uno" and they would leave out the first word, or "tres" and they would leave out the third word.
The third grade began singing in parts and the fourth grade gave a play based upon the Three Pigs and the Big Bad Wolf -- all in Spanish. All instructions to the classes on stage were given in Spanish. It was obvious the we had a master teacher with the ability to show as well as tell the students what to learn and use hand movements or body language to emphasize the learning. The facility gained throughout the first four years was impressive.
I was aware, as we sat in the assembly, that the upper grades (through grade 8), not only could appreciate the younger children and applaud their work, but understand all of the Spanish having "been there, done that."
All educators know that young children learn new languages better than older children. We had to fight to get Spanish into the middle school several years ago -- and it is still only an elective. Otherwise, you begin foreign language in high school when it is not so easy to learn.
If I had seen such an assembly when my children were young, I would have sent them to this school in a heartbeat. When will we remember that learning is child centered. It has nothing to do with how much we adults wish to pour into their brains. It has everything to do with the child's readiness to learn, the appropriate environment to make learning fun, and the care and feeding of children -- education that is out of the hands of politicians who hold our public schools hostage to the cult of standardized testing. It is no longer most important to provide an enriching environment so that a child is groomed and receptive for learning. Waldorf School has not forgotten that consistent and long term interaction with the arts and physical education prepares the body and mind to understand math and science.
Nico's teacher would not have a position in our public schools. No one would hire her to teach the very classes where a foreign language should be taught. I, for one, am glad that my children are sacrificing to send my grandchild to a pretty special school environment. He is a most happy learner.
Posted by Marilyn at 12:49 PM | Comments (0)
November 6, 2013
Losses
I met Millie Seidman when she and I volunteered to make a safety film for Calabash School's PTA where our daughters were in 3rd or 4th grade. I drove the car that supposedly hit the child, and Millie handled the camera. Her Nancy, and my Jeni, were the actors. I also had Nancy in the choir that I conducted for the school. Our husbands met when Millie and I volunteered them for a PTA fundraiser. Of course, they both charmed all the residents into giving and consequently got an award for raising the most funds. That began a friendship that has lasted for these many years.
Don Seidman was a well loved dermatologist who had met Millie when she was a nurse. He began his career as a teacher because, as a Jew, he was not accepted in UCLA's medical school for many years. Sometimes it appeared that both of the Dons shared several contacts -- our parishioners were often his patients. Millie was a gourmet cook and would call on a moment's notice with an invite for dinner because she wanted to try a new recipe. We spent many, many lovely evenings together. Nancy was the third of their five daughters.
They were a playful family. Once when their eldest daughter was flying home from school abroad, every one of them dressed up in funny costumes and placed themselves strategically around the airport waiting room. Kathy had to search to find even one member of her family. When she spotted her mom in a funny costume, she got the idea and had to find the rest of her family who were all disguised. Even the day that our Dons went door to door for the PTA, Millie dressed up as an old lady and followed them around the blocks until they finally realized who that person was that kept popping up.
I saw Don Seidman in August when I was in California. He was dying. Since my visit, he has passed away. I was so fortunate to be able to see him and spend time with Millie and Nancy. Now, their daughter Kathy, who is a teacher, is near death from the cancer that she has been battling for the past three or four years. My heart is with Millie because I cannot imagine losing your husband and your daughter within a few months of each other. It is one of those times that I wish I didn't live so far away.
Nancy, who lives close to Millie, has been keeping all of us, near and far, apprised of Kathy's condition for over a year. She has taken it on as her job -- tending to her sister's needs and keeping us abreast of the progress of the disease. We know from her that Kathy is in her final days. I love the way that she described the fact that her father is hovering in the wings to help Kathy along. The family is gathering to say goodbye just as they did just over a month ago with their father.
So, my heart today is with the Seidman family and all the wonderful, rich memories of our time together. They are beautiful people -- some of the best. I love them dearly.
Posted by Marilyn at 9:52 AM | Comments (0)
November 2, 2013
Weight Watchers
I've been a lifelong member of Weight Watchers -- not a lifetime member where you reach your goal weight -- a lifelong member because I started going in my 30's after having a few children, and I'm still going. I've never reached my goal weight, but I've learned a lot.
Like my mother, I was never a chubby person. I was tall and skinny, athletic, and active. I danced, ice skated, loved physical education (which we had daily my entire school career), loved the beach and swimming, and probably never very quiet for long (unless I had a good book in my hands). After having children, I began to take more after my father who, though not fat, always had a few pounds to take off. So, in Woodland Hills, I went to Weight Watchers and lost some, quit, went back when the scale began to climb, quit, etc.
When I moved to Bellingham, I tried to continue Weight Watchers, but it just didn't work out as well. So I gained more weight than usual and decided to return. I've now joined and quit about four or five times over the past 30 years. I did lose all the heaviest weight, but then would gain back 10 pounds or so, return and lose them, gain them again, return again. This time (as in the past), I am determined to reach my goal weight.
Don and I went to the hospital classes once on low fat eating, but I'm convinced that the low fat groceries (ie mayonnaise, ice cream, dressings, etc.) have such horrible ingredients in them that it is better to eat a small amount of regular products than larger amounts of fillers. Once I took a Weight Watcher's chocolate bar to a movie. I began to eat it slowly - loving the rich taste. By the end of the bar, I was physically sick. The same things happen to me with low fat ice cream -- I feel sickly. As much as I absolutely love Diet coke, I just cannot drink it because it makes me achy.
So, Weight Watchers is for me -- not their diet products, but their philosophy. Write down what you eat, stay within the appointed amount of points for the day and week, eat slowly, move your body with exercise, eat all the fruits and vegetables you want without counting (except for stuff like potatoes), and come to meetings regularly. There is nothing that I really learn new at meetings (although there is more scientific stuff and research they are quoting that is interesting), but a commitment to go to a meeting is a commitment to stay on the program. I'm reminded weekly that this is a lifelong commitment, not a fad diet; that I need to make it a priority in my life if I really am serious about my well being and health; and that losing weight is not all uphill, but a series of weekly ups and downs -- lose, lose, lose, gain, lose, lose.
Since I have returned to Weight Watchers, my last 20 lbs. have disappeared over many weeks, I've thrown away the Tums, I have gone back to walking, I have more energy, my clothes fit better, and I'm proud of myself for choosing to do something and sticking to it.
Weight Watchers isn't for everyone -- but it is for me. Could I do it without joining? Probably! Would I do it without joining? Probably not. I guess I just respond to external stimulus. I love seeing those lbs. disappear in my little check-in book. Every time I get out of my car in front of the meeting, I am pleased that I'm doing something about myself. Each week, the one thing that I commit myself to is this. Everything else I would like to accomplish comes second, third, etc. That is the only way it works best for me.
Maybe this time I can go all the way and reach my goal.
Posted by Marilyn at 11:46 AM | Comments (0)
October 22, 2013
Goodbye Beautiful Tree
My once beautiful Tulip Poplar tree is gone. After a long and arduous campaign with the City of Bellingham, they have removed the tree at their expense which is going to exceed $10,000 after repaving the street, driveways and sidewalks.
First they sent out a crew to break up the concrete and blacktop so that the contractor could get into the roots around the stump. Then, last week, Henifin's crew came to remove the tree. It was an all-day project. They were amazing considering some of the tree was over my garage. They used a huge lift that, straightened out, just topped the highest branches. A large backhoe picked up the debris that was deposited in many, many very large trailers hauled off, one right after another, from the closed-off street. They began at 8:00 a.m. and finished that evening after 9:00.
I'm posting lots of pictures which can only remind me of the excitement all day. Keith and Eulalah were here, Allie was here, Dani and Nico were here -- and I could not do one thing other than take pictures and mourn the demise of a tree that (the person who wielded the saw told me) was over 110 years old. The cutter said he had done this since he was a teen and he knew his trees.
Unfortunately, for the city, they should have let us take it down when it began it's destruction of the sidewalks and street (as well as our sewer system which we had to reroute because of the invasion). But, alas, they did not and over the ensuing years they dug massive holes right in front of it to fix the neighbors sewers -- leading to the tree's demise. Every section of the tree including both arterial limbs and the main trunk showed signs of dying. I'm fortunate that it didn't have longer to live and take out part of my house.
But, it is still sad to lose such a grand old lady -- one that has stood as a sentinel to guard this lovely home on Bellingham Bay. Oh, the stories it could tell! Goodbye, lovely lady!
Preparing the Street for the Tree Removal

The Next Three Pictures are the First Cutting of the Lower Branches

Large Limbs Showing Interior Damage
The Pics of the Final Branches to be Cut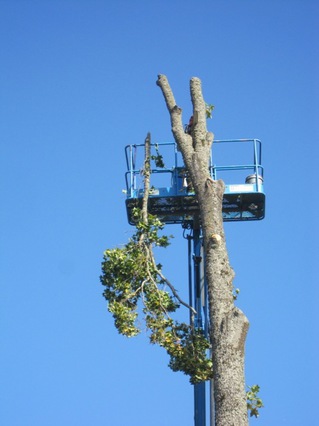 \

A Feeble Attempt to Knock Over the Remaining Tree

Giving Up And Cutting Some More of the Main Trunk
That's A Very Big Trunk with my Neighbor, Andy

And Nico Gets In On The Action!

Posted by Marilyn at 10:07 AM | Comments (0)
The Foggy Foggy Dew
I remember telling Don once that it seemed strange that it was never foggy in Bellingham. Well, I've been proved wrong this past few weeks. Over the past ten years, we have had occasional fog. But, this past few weeks has been fogged in every morning, and often all day. What is happening? Why would I even remember if we never had fog? If you lived in my house, you would know. Fog means that the bay disappears. In the first ten years that we lived here, it never ever happened. This morning it is all mist and no view.
On another note, I have a funny true story of last night's trip to the Olive Garden. My friend, Nancy, and I go to Weight Watchers every Monday at 5:00 and follow it up to a trip to get one of the restaurant's lighter fare meals. Last night we ordered the Capellini Pomodoro which is simply Angel Hair pasta with tomatoes. We also added shrimp. After eating my salad and Nancy's soup, we waited. And waited. And waited. Finally, the waitress apologized because they had run out of the pasta and had to make a whole new batch. I didn't know why the extremely thin Angel Hair would take so long -- even to make a new batch from scratch -- but we said, OK. Next thing we knew, the manager was at our table apologizing and saying he would comp one of the meals.
The pasta arrived with a new server and -- no shrimp. So, we sent her back to the kitchen for the shrimp. Waitress came over -- "I didn't hear shrimp." Manager came over and again apologized and said he would comp both our meals. We waited for the shrimp. After finishing our pasta (which we ate slowly waiting for the shrimp), I finally said to Nancy, "I think we are not getting the shrimp." The waitress came to fill our water glasses and we said, "We still didn't get our shrimp." She indicated that the manager had taken over our order and she had no idea why that happened.
Again, the manager came to see us. He took full responsibility, said he was working with the waitress to figure out how this could be avoided in the future, and left two gift certificates for $20 in both our hands. We just rolled with the punches since we enjoyed our evening of visiting -- except for the fact that the restaurant got so cold that we had to don our jackets in the middle of the meal. Talk about Comedy of Errors!
I must say that we told the manager that we come to the restaurant every Monday evening which is why he probably tried to appease us. He was a bit over the top with his antics trying to be "hale fellow well met." And, actually, Nancy and I really go there to visit and because it is just down the street from where we weigh in. But, we got a free meal both this week and next -- so I can't complain.
Posted by Marilyn at 9:49 AM | Comments (0)
September 19, 2013
California
The first thing I remember when I reach California is that it is really the golden state. The nature of the sunlight, the rolling hills, the glow off the surf -- it is all golden! Washington feels so different -- more blue/green. Lush! I was reminded of stepping off the plane in Honolulu -- it was the warmth of California with the addition of flowery aromas. I was in California to help celebrate the life of a close friend, Roger Wood. But, I had been planning a trip for a long time to see a variety of relatives and close friends with declining health.
I flew into Orange County because I've loved that airport ever since Dani and Charles lived there. It is a) close to one of my favorite restaurants (Gulf Stream), b) close to some favorite haunts such as Rogers Gardens, Balboa Island, Sherman Gardens, the bookstore at Newport Library, c) the proximity to the toll road that takes me to Carlsbad in less than 45 minutes. I met some of the Rea's at the restaurant before heading south to Don's sister's house for four days. Pat isn't up to coming to Bellingham any longer, so I haven't seen her for a few years. It was great to catch up, see nephews and nieces, go to high tea with Pat and my nephew's wife, and meet up with some other friends for a few meals. The weather was typical Carlsbad weather -- glorious and breezy. The visit was only marred by my constant updates from home about my friend, Etta, who was declining daily.
Next stop, my sister's house in Santa Monica after visiting my 86 year old cousin, Dixie, in Long Beach. Linda and I enjoyed a day with all our cousins on my mom's side -- people we grew up with as our parents were close. Karen had invited everyone to her house including my 99 year old aunt, Eleanor. Eleanor had recently attended a Dodger game, and went into the dugout to meet all of her heroes. She also got invited back next year to throw out the first pitch of the season for her 100th birthday! A real treat was bringing together Eleanor and our former neighbor, Margie, who is 98. They hadn't seen each other for probably 50 years.
From Santa Monica, I went to Woodland Hills and had lunch with three good friends. I was taking some of Don's stoles back to Mary Becker, the artist who made them in response to particular sermons he had preached. Dani joined me the next morning and we headed north. We had lunch with the Seidman's in Ventura. Both Don and their daughter, Cathy, have been very ill. It was wonderful to see Don, Millie and Nancy and share a delicious lunch. Then on to Ojai where we stayed with Kay and Marty Babayco and got to see their son and new daughter-in-law -- both recent graduates from Princeton Theological seminary.
In Santa Barbara, I stayed with Judy and Lance Boyd while Dani stayed with her friends and former neighbors from Irvine. The four days were filled with Roger's memorial service which was beautiful and time spent at their family home. It was a really interesting experience to spend time with old friends, their children who are also old friends, and a whole slew of grandchildren who are now adults and are perfect strangers. It was also nice to spend some time with an old friend, Margo, and greet some former parishioners and friends at the service.
It was hot, hot, hot! Everywhere but Santa Barbara was prepared for heat with air conditioning. Santa Barbara doesn't have many hot days. In fact, when we moved there we bought a dryer since you didn't have enough warmth during the day to air dry clothes. The fog didn't lift until noon and settled in again in the afternoon. The church for Roger's service was in the high 90's and I was conducting the choir -- not very comfortable for this WA resident. But, we persevered.
It was a lovely trip. When Don and I arrived in Santa Barbara, the search committee of La Mesa Church said it was too bad for him to begin his career in a place he would probably leave. They were right. It is such a beautiful place -- and I could go back there in a heartbeat if I could afford the kind of home I would like to live in. Dani and I were fantasizing about it!
But, it was also wonderful to come back to this gorgeous country. I was sad to miss the lovely month of August in the Northwest. We came back to dreary weather, but fortunately yesterday and today have been beautiful. I guess there are many beautiful places that one can live -- and friends who exist wherever you are. I loved spending time with old friends and family where you can bridge the gap of years within a heartbeat. But, it is nice to come home again wherever your home may be.
Walking the boardwalk in Carlsbad with Pat

s
Tea with Kathy - showing off her Gluten free food!

Pat, Steve and Patti with me in Carlsbad

Two very old friends unite after 50 years

My three MacKinnon cousins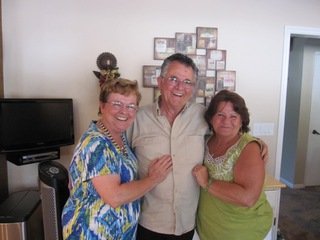 Kay and Marty Babayco

Judy and Lance Boyd

My friend Margo Chapman

Dani and I having a final goodbye lunch in Calabasas on the way to the airport

Posted by Marilyn at 12:22 PM | Comments (0)
September 17, 2013
I've Lost the Month of August!
What happened to August? It was characterized by my absence from home and deep sadness because I lost a couple of close friends -- one who died after a lingering illness and one who died rather suddenly. I hate being away in August, but I scheduled a long trip around Roger's memorial service so that I could visit relatives and friends in California. I began my trip flying into Orange County, dropped down to Carlsbad, then north to Santa Monica, Woodland Hills, Ventura & Ojai, and finally Santa Barbara. I planned to blog along the way, but I was so busy either visiting or grieving over the loss of my friend, Etta, who had suffered an aneurism just before I left and declined in my first week away, that I was not up to being chatty online. I will still write something about my California trip in another blog.
I came back home after sadly missing Etta's memorial service, stayed for just enough time to get reoriented, and drove to the Shakespeare Festival in Ashland, Oregon, with three friends to see a round of plays and dine in our favorite restaurants. We saw The Tenth Muse, Cymbeline (Shakespeare), The Heart of Robin Hood, King Lear (Shakespeare), The Liquid Plain, and My Fair Lady. I arrived home Sunday evening missing our church's farewell sendoff for our pastor, Kent, as he is returning to Boston. I had church meetings yesterday, and today I began my year as supervisor for City University counseling interns.
So, I feel as though I lost a whole month in Bellingham -- a month where no one wants to leave Bellingham because of the lovely weather. California was hot. Oregon was hot. Today I am freezing!
I began the day with a long hour drive to Concrete Elementary School to meet my new intern. It was simply gorgeous with the mountains looming over the valley and puffs of fog lingering between the mountain tops. The forests of trees are beginning to change to their fall colors and it is a beautiful and peaceful drive. I look forward to the two or three trips each quarter to observe my intern use her counseling skills. I met the counselor of the school who is her mentor and found that I know her mother well as she was a principal in Bellingham. She warned me to be careful driving on the roads to Concrete because herds of Elk roam the hills and often cross the highway without warning causing total damage to cars. She suggested that if I saw even one elk to slow down and expect there to be many more lurking behind. Yikes! And, here I was taking in all the glory of the morning and probably paying little attention to the road!
I have one more intern to meet this week and the quarter is under way. I don't feel like doing much at home except sort of getting my life back in some kind of groove. But, the losses of the summer linger and I am not really ready to give up the summer I missed in Bellingham. I'll have to remember that fall has always been my favorite season. This fall brings James as a senior in high school and Allie moving into a dorm just down the road. Nico has started first grade. Nicole is a junior and little Lionel has moved into his new home just a block away from their old apartment.
Life changes all around me.
Posted by Marilyn at 2:26 PM | Comments (0)
August 25, 2013
Etta
What can you say when you lose a good friend way too early? My friend, Etta, had battled cancer successfully -- wasn't that just enough for now? I left WA last Wednesday to fly to California. At that time, she was lying in a Seattle hospital bed seemingly coming slowly out of the devastating effects of an sudden aneurism. I visited her before I left and was thrilled to see her smile and try to speak. Every day I religiously followed the hospital blog as she continued to improve -- until she took a few steps backward. Then, three days of no response. Then, no hope. She died yesterday.
Etta was a marvelously talented woman. She was in my dinner group, my birthday group, my church circle, and just a very special person. She was a retired Home Ec teacher, so when I remodeled my kitchen, she sat with me and gave me sage advice about storage ideas. She and our friend, Barb, were the chief organizers of an extremely successful rummage sale at church that made many thousands of dollars because of their talents in setting up the environment and nudging the rest of us into some great marketing ideas. With her husband, Mike, she organized and led tours to various countries. She helped orchestrate a yearly concert with our singing pastor that made a great deal of money for charity. She was instrumental in redecorating and upgrading the condos where she and Mike have a membership in Port Townsend. She dearly loved her children and grandchildren and spent quality time with them.
Nothing will ever be the same again without Etta. It's as if the lights have dimmed. A huge creative and talented presence has left our life. We will no longer sit at her impeccable table graced with fruits of the season. We will no longer share our favorite foods. We will no longer appreciate her unique talents that she shared so freely. We will no longer be recipients of her generous and amazing organizational abilities. We will miss her at church and every place she graced with her presence. My body might be in California at this time, but my heart is with Mike, his family, and all our friends who loved Etta so dearly.
Rest in Peace, Etta -- and get it all in order before we follow you!
Posted by Marilyn at 7:24 PM | Comments (1)
August 4, 2013
Quirks
I was talking to a visitor the other day about pet peeves. She and her husband and child are Hong Kong friends of Dani and Charles and have been staying at my house during their time in Bellingham. I was saying that the shortening of all words because of the use of media drives me crazy. I know it is easier to write San Fran and Cali than the full words, but if you came from there, you would know that it is totally unacceptable. One never shortened San Francisco in front of a native -- or California either. You would be shunned if you did. Now, because of Twitter and Facebook and texting, we speak in a brand new shortened language -- and sometimes it takes me awhile to understand what the writer is saying. I finally, after much pondering, got DIY -- and I'm glad I did because it is not only a shortened sentence, but an adjective for projects needed to be done.
My house has been full of people -- Dani's friends just left for Vancouver. Kevin works for CNN in Hong Kong and Corinna is a correspondent turned educator and about to get a master's in counseling which gave us some common ground. Their child is not quite Nico's age and they had a great couple of days together. This is also the weekend of Jeni and Ron's 30th high school reunion so they have been around with Nicole -- but mostly going to parties and bringing over some friends to say hi. At least my reconditioned guest bath has a new toilet and sink. Even the bathtub works, but no shower curtain yet -- so people still have to traipse downstairs or take a shower in my bathroom. I'm soooo close to finishing that project -- so exciting.
Back to pet peeves -- my other pet peeve this week has to do with mops. When you spend time getting ready for company, you clean and mop. I have a habit of buying the mop but no refills sponges -- and when I need refills, I cannot find the same mop I bought originally and other sponges don't fit. This is not the first time this has happened. To make it harder, the mop has absolutely no brand name on it. And, I never remember where I bought the mop in the first place. So, I now need a new sponge -- and I have looked everywhere in town from Lowe's, Home Depot, Hardware Sales, Haggens to Fred Meyer -- everywhere! And, I cannot find the same mop. And, I cannot find a refill that fits. Grrr. So, once again, I have to buy another new mop and put the old sponge-less mop in the basement with all the other old ones. I always hope that I will find a refill for one of them. I know this sounds crazy, but it's simply what it is.
Having guests visit and refinishing a bathroom also reminds me that I'm also a terrible towel buyer. Either the towels are too cheap and flimsy or expensive but not very absorbent. I just wrote Charles' mother, Margaret, who is a great shopper for towel ideas - because I seem always to make the wrong choices. She tells me to go to Penny's for good towels. Sounds like a great plan to me since the ones at Restoration Hardware that looked fantastic, are not. Once I bought Jacquard towels from the old Bon and brought them home. I washed them and then put them in my bathroom. After drying with them, your body was still dripping wet. They simply did not absorb any water. So, I took them back. The sales person didn't know what to do. She had never taken back a towel -- I told her that they did not work so she had to take them back. She finally did, but was unhappy about it. Margaret says never buy anything that it not 100% cotton. So, once again I'm going to try to buy new towels.
I think I'm tired and cranky from all the company -- and I'm making plans to fly to California the last few weeks of the month to go to a dear friend's memorial service -- a sad time. I'm taking more time so I can visit with my sister, sister-in-law, aunt and other friends -- even though it is hard to leave Bellingham during the beautiful month of August. But, if I'm going to fly to California, I also want to take advantage of the trip to see people.
That's what is on my mind today besides enjoying this fabulous weather and a quiet house.
Posted by Marilyn at 3:44 PM | Comments (2)
July 12, 2013
The Inevitable...
I've must thank my parents for my wonderful genes. I have been incredibly healthy for all these years. One operation or procedure in my life -- a tonsillectomy when I was about eight and a broken collarbone about the same age which wasn't diagnosed until it was healed. Of course, birthing three children (and one 10 lbs) was no mean feat. But, I am forever grateful for never breaking a bone or having a mental collapse or something that was large and foreboding. It was bad enough having a daughter break her elbow while Don and I were at a church meeting. She was riding on a big, round plastic drum in my sister's backyard, and she fell off. I think that was our only visit to the ER with a child. Of course, when your children have any ailments, you wish you could just suffer the pain and trauma for them instead.
I also have a new doctor since my long time Bellingham guy retired. I've tried a few in his practice, but decided instead to try Dani's doctor across town. I really liked her, but have only seen her once. However, I have had some kind of pressure on my right side over my hip, and so I decided to check it out. Dr. Andert is very pleasant and looked me over, then decided I should have a CT Scan to take a look. And, I should have it that day or the next. I've never had a scan -- what is it like? Will they find lots of problems? Of course, the anxiety took over since this is a new territory for me.
I went from her office to get blood drawn (never a problem even when Don hated needles), and then to get some awful stuff to drink -- well, it went down, but not what I would choose to drink. Chalky! Then, I had to go to get the scan in the later afternoon. The scan was nothing much, except that the anxiety rose when I found that they were injecting dye to check my organs because my creatinan level was borderline.
My doctor called two hours later. All looked fine and they can't find any reason for the pressure. However, as in people over 70, there were a few items to note -- 1) I have a Hiatial Hernia (which I already knew about), 2) I have a tiny hernia behind my belly button, and 3) I have a bit of arthritis in my lower back. I found out the next day that my Vitamin D levels (a test I asked them to include) shows me below the lowest amount of Vitamin D even though I take 2,000 mg. a day and have for over a few years. So, now I have to up the dosage for 8 weeks until my levels are restored.
That's it -- I was relieved although I knew my symptoms were not painful nor were there accompanying symptoms of any kind. But, I realized that not having gone through much medical stuff other than regular checkups means that I really have no experience in handling my own serious concerns. I think I did fairly well with my parents and with Don's illnesses and medical procedures, but I have no perspective or even strategies for anxiety or handling myself which can go from mild concern to panic in a short hop. Nothing wrong with my imagination!
I must learn to do this better as I age. Of course, I have a great support team in my family, but more stuff will come, and I want to do it well. I told Dani, I feel good knowing that everything between my butt and my breasts seems to be functioning right -- but who knows what lurks in the far corners.
I continue to be thankful as I go on my life's journey. Thankful for a body that is definitely aging and creaking more and more, but is still carrying me along in life. Thankful for living in a time when medicine is discovering more answers daily and when a CT Scan taken in a few moments can show what your body is doing. Grateful for fresh vegetables and fruit and all the good stuff that is available to eat. Just damn grateful -- that's it!
Posted by Marilyn at 12:07 PM | Comments (0)